To give us access to your Google Analytics account you will need to add our email address as a user:
webmaster@contentfirst.com.au
Follow these instructions:
Step 1: Open Your Settings in Google Analytics
The first thing you need to do is to sign in to your Google Analytics account and choose the site for which you'd like to grant access.
Then, click the Admin option.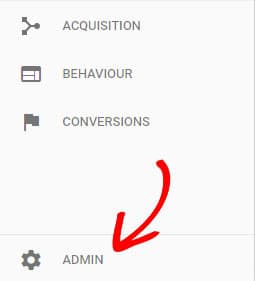 Now you'll notice there's a User Management link under every column. That's because there are 3 levels of access: Account, Property and View:
Account: Allow users to add other users, add additional websites, and link AdWords and AdSense data.
Property: Allow users to access the tracking code, adjust the retargeting code and adjust settings on a particular website.
View: Allow users to view reports, add goals and content groupings.
In this tutorial, we'll show you how to give us Account access to your website analytics. That's because we will often need this to link data to your Google Adwords account.
To do that, click the User Management link in the middle, under the Account column.
Step 2: Add Permissions to a User
Now you'll be asked to enter the email of the user to whom you'd like to give access. You can give permissions to manage users, collaborate, edit or read and analyze. Usually, Content First support will need Edit access.
You can select Notify this user by email to send a notification to each user you're adding. Then, click Add.
That's it! You've successfully allowed a user to access your Google Analytics account.